News

2017
Propaira sponsors NSW ADNA State Educational Day
14th October 2017 at the Royal North Shore Hospital
More than 60 Dermatology Nurses attended the whole day conference highlighting a wide range of skin treatments such as Eczema and Skin Cancer.
The aim of the ADNA (Australian Dermatology Nurses' Association) is to promote the best standard of care for the dermatology patient.
Propaira stand was inundated with dermatology nurses who were impressed with the relevant and expanding propaira product range.
Propaira Platinum Sponsor of ASDC 2017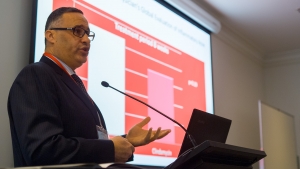 Propaira was the Platinum Sponsor of The Australian Society of Dermal Clinicians (ASDC), 6th Educational Conference, held July 15-17, 2017 Rydges Hotel, Melbourne. Attended by over 130 Dermal Clinicians. This year's conference theme was Acne.
The ASDC encourage research and evidence based practice to achieve optimal outcomes for patients, as well as advocating on the behalf of industry and patients in maintaining standards in safety in all aspects of dermal practice.
Propaira Managing Director, Baz Hamo spoke about "Niacinamide and Acne". At Propaira's booth, delegates were very interested in Propaira's Acne products as well as the rest of Propaira's range due to proven efficacy, safety and affordability.
Saudi Arabia Launch
Propaira will launch their Products in Saudi Arabia in the third quarter of 2017. Ten Propaira products have been granted regulatory approval by SFDA.
ACD Meeting Exhibitor
Propaira is exhibiting at the Australasian College of Dermatologists 50th Annual Scientific Meeting, 6-9 May Sydney Australia.
The ACD 2017 is the principal scientific meeting for dermatologists in Australia and New Zealand. The objectives of the meeting are the professional development of hundreds of dermatologists, nurses and other medical practitioners. The meeting is attended by registered dermatologists, trainees, other medical professionals and nurses, from both Australia and New Zealand, and also from South-East Asia and other countries.
2016
Propaira sponsored Skin & Cancer Foundation of Victoria, Inflamatory Skin Conditions Conference on the 23rd October 2016.
Propaira sponsored the Hunter Melanoma Foundation beach ball fundraiser event on the 14th of October 2016.
Propaira has moved to new premises due to substantial expansion. The new address is 84 Hotham (Corporate One) St Preston 3072 Victoria Australia.
Propaira is sponsoring the Australian Society of Dermal Clinicians annual educational conference. Sunday 17th July. Bayview on the Park, Melbourne Australia. 150 dermal clinicians are expected to attend.
2014
Propaira is sponsoring the Australian Society of Dermal Clinicians 3rd annual educational conference on Sunday, the 27th of July at Amora Hotel in Richmond, VIC, Australia.
National Skin Centre (NSC) in Singapore has listed Propaira for Eczema prone skin to manage its Eczema patients.
"Acne and Eczema Management in Pharmacy" is a presentation soponsored by Propaira at NSW Pharmacy Guild Conference NCE14 on 21 June 2014.
Facebook page launched in June 2014 www.facebook.com/propaira
2013
PROPAIRA exhibited at the "Non-Surgical Symposium" of the Australasian Society of Aesthetic Plastic Surgery and Australasian Cosmetic Physicians Society in Sydney/Australia, 28-31 August 2013.
Propaira exhibited at the 46th annual scientific meeting of Australasian College of Dermatologists. Sydney/Australia 18-22 May 2013. Booth # 77
Propaira exhibited at Cosmetex 2013 Melbourne/Australia 17-20 Apr 2013. Booth # 80
2012
PROPAIRA sponsored the Australian Dermatology Nurses Conference;
May 19-20 2012 in Brisbane/Australia.
190 delegates attended the conference

PROPAIRA sponsored the 9th Australasian Society for Dermatology Research Meeting in Sydney.
22-24 May 2012.