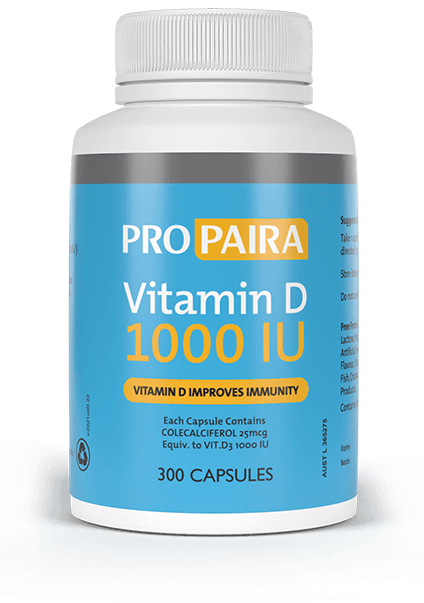 Vitamin D 1000 IU
300 Capsules
Vitamin D Improves Immunity
Around 1/4 of all Australians are deficient in Vitamin D*
Vitamin D helps Calcium absorption
Ingredients:
Each capsule contains:
Colecalciferol 25mcg (Equivalent to Vitamin D3 1000 IU )
Vitamin D helps calcium absorption, a diet deficient in calcium can lead to osteoporosis in later life.
Vitamin supplements should not replace a balanced diet
Directions for use:
Take 1 capsule daily with food or as directed by your healthcare professional.
Store below 25oC in a dry place away from sunlight.
Free From: Gluten, Wheat, Lactose, Peanuts, Sugar, Artificial Sweetener or Flavour, Starch, Egg Products, Fish, Crustacean, Bee & Dairy Products.
Contains sulfites.
* Low vitamin D in Victoria Key health messages for doctors, nurses and allied health Updated June 2017