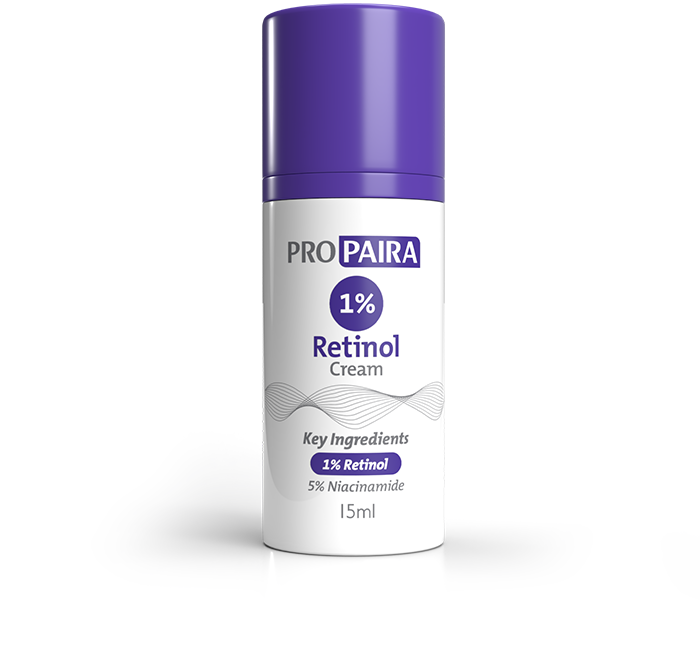 1% Retinol Cream
(Extra Strength) 15ml
1% Retinol is our extra strength retinoid cream
To Combat:
ACNE
SUN DAMAGE
WRINKLES
PIGMENTATION
Key Ingredients:
Encapsulated Retinol (1% Pure Retinol)
5% Niacinamide
Directions for use:
Shake well before use.
Initially the Airless Pump requires around 25 pumps to load the cream into the pipeline.
Apply a thin layer to face, neck and affected areas once a day at night.
Use Propaira Sunscreen before going in the sun.
Please Note - If you have never used Retinol before consider starting out with Retinol Plus (0.25% Retinol).
Week 1 - Apply once every 3 days.
Week 2 - Apply once every 2 days.
Week 3 - Apply once every day.
Ingredients:
Aqua(Purified Water), Caprylic/Capric Triglyceride, Cetearyl Alcohol, Niacinamide, Glycerin, Dimethicone, Ceteareth-20, Retinol, Polysorbate 20, Inulin Lauryl Carbamate, Tocopherol, Vitis Vinifera (Grape) Seed Oil, Camellia Sinensis (Green Tea) Extract, Xanthan Gum, Allantoin, Sodium Dehydroacetate, Citric Acid, Magnesium Aluminum Silicate, Sodium Hyaluronate, Benzyl Alcohol