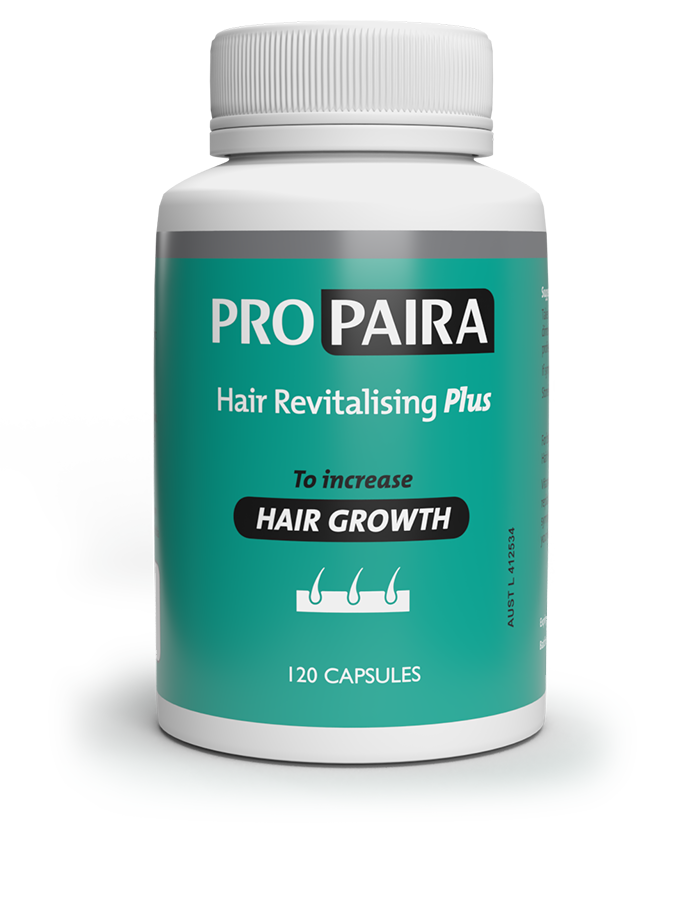 Hair Revitalising Plus
120 Capsules
To Increase Hair Growth
Hair Revitalising Capsules Contain:
Selenomethionine 190mcg Equiv. Selenium 70mcg,

Calcium folinate 146.5mcg Equiv. Folinic acid 140mcg,

Calcium pantothenate 12.56mg Equiv. Pantothenic acid 10mg,

Colecalciferol 12.5mcg Equiv. 500 IU VIT D,

Cyanocobalamin 30mcg,

Pyridoxine hydrochloride 850mcg Equiv. Pyridoxine 700mcg,

5.36mg Copper gluconate equivalent to 0.75 mg Copper,

5 mg Palm Tocotrienols Complex.
Directions for use:
Take 1 capsule with breakfast and 1 capsule with dinner daily or as directed by your healthcare professional.
Store below 25oC in a dry place away from sunlight.
For best results use with Propaira Revital-i-sing Shampoo, Conditioner, Hair Booster Plus 120 Capsules and Serum.