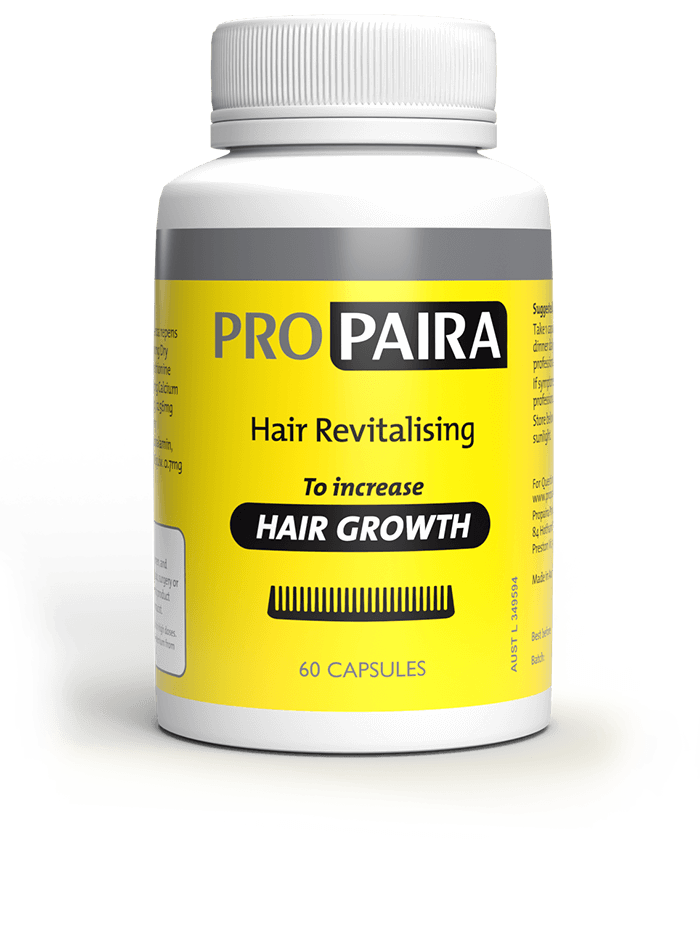 Hair Revitalising
60 Capsules
To Increase Hair Growth
Hair Revitalising Capsules Contain:
Shark cartilage 300mg,

Serenoa repens extract dry concentrate 133mg - Equiv. 800mg dry fruit,

Selenomethionine 190mcg - Equiv. Selenium 70mcg,

Calcium folinate 146.5mcg - Equiv. Folinic acid 140mcg,

Calcium pantothenate 12.56mg - Equiv. Pantothenic acid (Vitamin B5) 10mg,

Cyanocobalamin (Vitamin B12) 30mcg,

Pyridoxine hydrochloride 850mcg - Equiv. Pyridoxine (Vitamin B6) 700mcg,

Riboflavin (Vitamin B2) 50mg .
Directions for use:
Take 1 capsule with breakfast and 1 capsule with dinner daily or as directed by your healthcare professional.
If symptoms persist, talk to your health professional.
Store below 25oC in a dry place away from sunlight.
For best results use with Propaira Revital-i-sing Shampoo, Conditioner, Hair Styling Cream, Hair Booster Plus 120 Capsules and Serum.
Vitamin B2 (riboflavin) supplements may change urine colour to bright yellow. This is harmless and temporary.