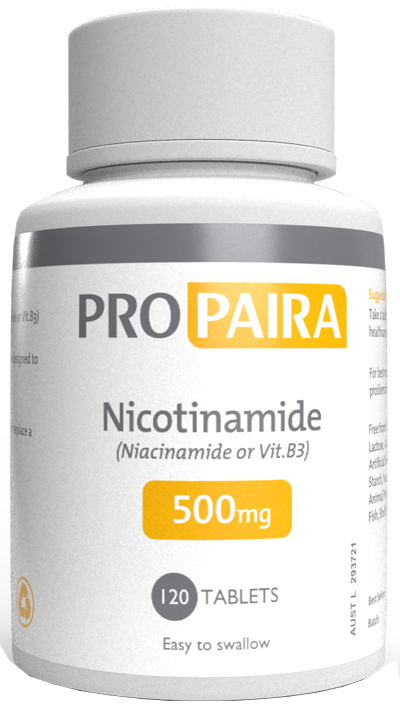 500mg Nicotinamide (Niacinamide or Vit B3)
500mg

Directions for use: Take 2 tablets daily: - One tablet with breakfast - One tablet with dinner or as directed by your healthcare professional.
For best results use with Propaira skincare for problematic skin.
Free of: Free of: Gluten, Wheat, Lactose, Alcohol, Peanuts, Sugar, Artificial Sweetener or Flavour, Stevia, Starch, Yeast, Soy, Corn, Rice, Preservatives, Animal Products including; Egg, Fish, Shellfish, Bee & Dairy.

* Propaira makes no guarantee that results seen by individuals will be seen by everyone. Results can vary from person to person.
We take the greatest care to comply with all Australian Consumer Law to not overstate claims made by individuals using our products.
1. Andrew C. Chen, M.B., B.S., Pablo Fernñndez‑Peñas, Ph.D., Diona L. Damian, Ph.D., et al. A Phase 3 Randomized Trial of Nicotinamide for Skin-Cancer Chemoprevention. The new england journal of medicine (2015)Med 2015;373:1618-26. Study Methods: double-blind, randomized & controlled trial. 500mg Nicotinamide twice daily. 386 participants for 12 months