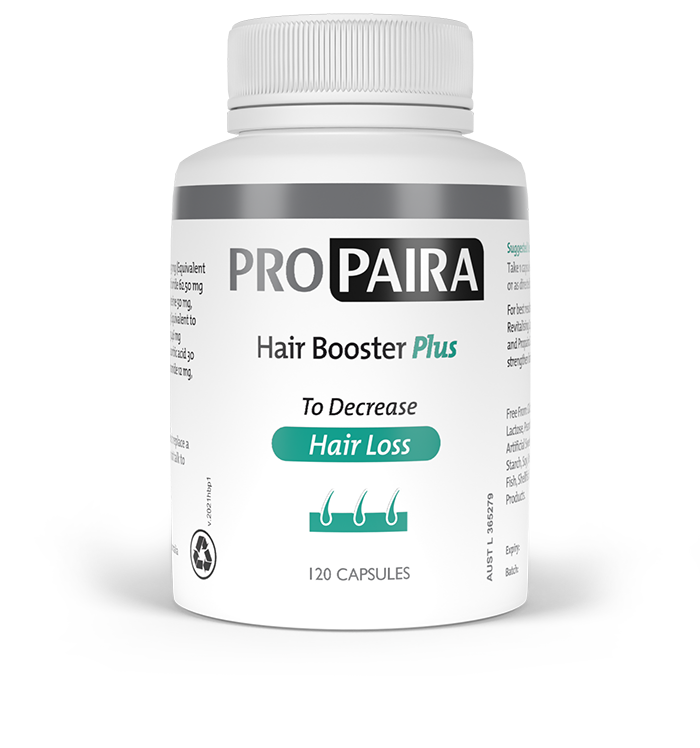 Hair Booster Plus Capsules
120 Capsules
Hair Booster Plus 120 Capsules
Hair Booster Plus Capsules Suggested Use:
Take 1 capsule with breakfast and 1 with dinner or as directed by your healthcare professional.
For best results use Propaira Revitalising 60 Capsules, Revital-i-sing Shampoo, Revital-i-sing Conditioner, Propaira Revital-i-sing Serum & Hair Styling Cream with UV Protection.
Free From:
Gluten, Wheat, Lactose, Peanuts, Sugar, Artificial Sweetener or Flavour, Starch, Soy, Rice, Egg Products, Fish, Shellfish, Bee & Dairy Products.
Hair Booster Plus Capsule Ingredients:
Biotin 1.32 mg
Ascorbic acid 30 mg
Colloidal Anhydrous Silica 106.95 mg (Equivalent to Silicon 50 mg)
Cysteine 50 mg
Ferrous sulfate 32.46 mg (Equivalent to Iron 10.50mg)
Lysine hydrochloride 62.50 mg (Equivalent to Lysine 50mg)
Methionine 25 mg
Nicotinamide 12 mg
Zinc citrate dihydrate 38.94 mg (Equivalent to Zinc 12.50mg)