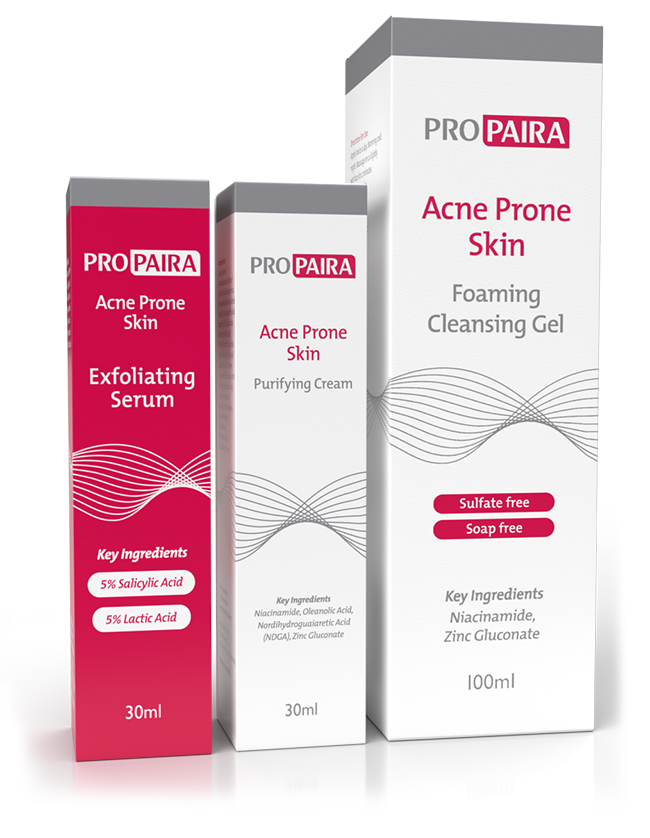 Propaira Acne Prone Skin
Combo
Acne (pimples, zits etc..) is a very common skin condition that usually begins when you hit puberty. The hair follicle and its associated oil (sebaceous) gland become blocked and inflamed. Creating whiteheads, blackheads and or inflamed pus-filled spots. These develop on the face, neck, back and chest because this is where sebum oil glands are largest and most active. 1
Propaira Purifying Cream and Foaming Cleansing Gel as well as 10% Exfoliating Serum have been designed to target Redness, Pimples, Blemishes, Black and White Heads and Excessive Oil Production without dryness, irritation or Sun reaction.
Also targeting maskne or mask acne caused by facemasks .
Propaira is one of Australia's most recommended skin treatments.
Propaira Skin Force Tablets for acne & Light Tone Tinted SPF50+ Sunscreen are recommended with Propaira Acne Products.
1. Propaira Foaming Cleansing Gel
(Soap & Sulfate Free)
Ingredients
Aqua (Water), Cocamidopropyl Betaine, Decyl Glucoside, Niacinamide, Zinc Gluconate,
PEG-150 Pentaerythrityl Tetrastearate, Lactic Acid, Phenoxyethanol, Sodium
Hydroxymethylglycinate.
Directions
Apply twice a day. Morning and night. Massage on a slightly wet face for 2 minutes.
Rinse and pat dry. Avoid eye area. For external use only.
2. Propaira Purifying Cream
Ingredients
Aqua (Water), Octyldodecanol, Cetearyl Alcohol (and) Ceteareth-20, Niacinamide, Polyacrylamide (and) C13-14 Isoparaffin (and) Laureth-7, Zinc Gluconate, Butylene Glycol (and) PEG-60 Almond Glycerides (and) Caprylyl Glycol (and) Glycerin (and) Carbomer (and) Nordihydroguaiaretic Acid (and) Oleanolic Acid, Cyclopentasiloxane (and) Cyclohexasiloxane, Cetearyl Alcohol, Dimethicone, Phenoxyethanol, Diazolidinyl Urea.
Directions
Apply a thin layer of cream twice a day to whole face and affected areas after cleansing. Avoid eye area. For external use only.
If wearing a face mask apply before and after to target potential maskne (mask acne).
10% Exfoliating Serum
2% Salicylic Acid & 8% Lactic Acid
Ingredients:
Purified Water, Lactic Acid, Ethanol, Pentylene Glycol, Salicylic Acid, Glycerin, Sodium Hydroxide, Hydroxyethylcellulose, Phenoxyethanol, Aloe Barbadensis Leaf Juice.
Directions for use:
Apply a thin layer of 10% Exfoliating Serum to the face and affected areas just before bed time after cleansing
Do not use other leave on products after applying 10% Exfoliating Serum.
Use Propaira Sunscreen before sun exposure.

Australasian College of Dermatologists www.dermcoll.edu.au