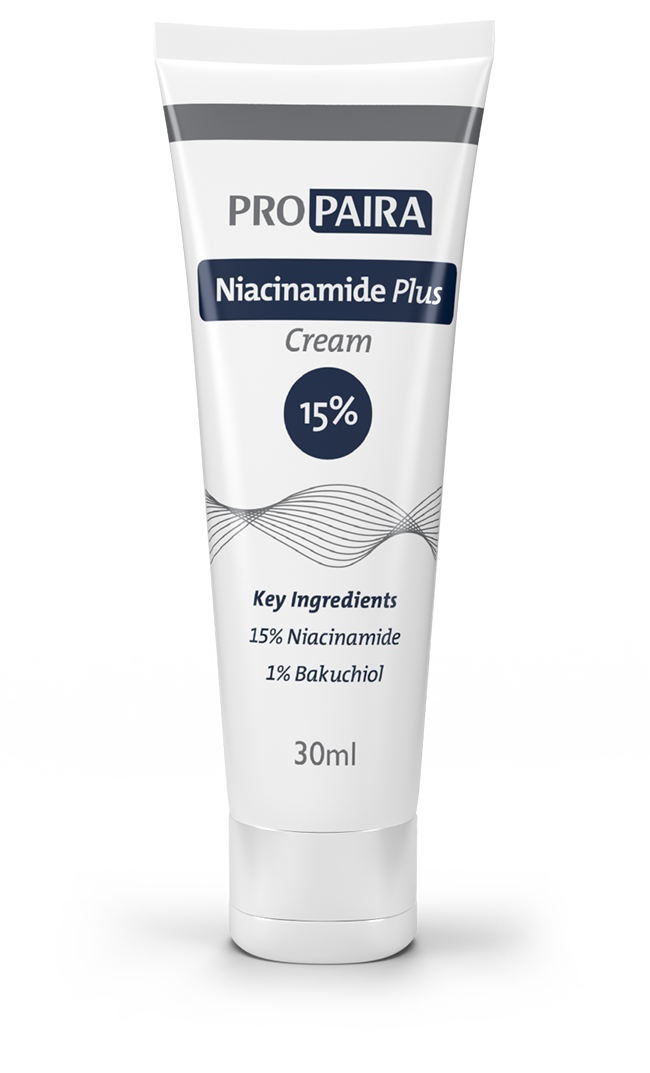 15% Niacinamide Plus Cream
30ml
Key Ingredient Functions:
1. Niacinamide 15% : 1
To combat fine lines and wrinkles
To combat photoaging and sunspots
To boost skin immunity (skin immunologist)
2. Bakuchiol 1% : 2
Bakuchiol is a Retinol analogue to increase skin moisture
3. Grape seed Oil:
Antioxidant to combat free radicals
Directions for use:
Apply to face, neck and affected areas twice a day.
Use Propaira Sunscreen before going in the sun.
For best results use Propaira Skin Defence 10% Niacinamide Micellar Cleansing Cream before each application.
Ingredients:
Aqua (Purified Water), Niacinamide, Caprylic/Capric Triglyceride, Cetearyl Alcohol, Dimethicone, Ceteareth-20, Bakuchiol, Xanthan Gum, Vitis Vinifera (Grape) Seed Oil, Phenoxyethanol, Benzyl Alcohol.
References
1. Chen AC, Damian DL, Nicotinamide and the skin. Australasian Journal of Dermatology (2014)55,169-175
2. Draelos et al, Clinical Evaluation of a Nature Based Bakuchiol Anti- Aging Moisturiser for Sensitive Skin. Journal of Drugs in Dermatology (2020)