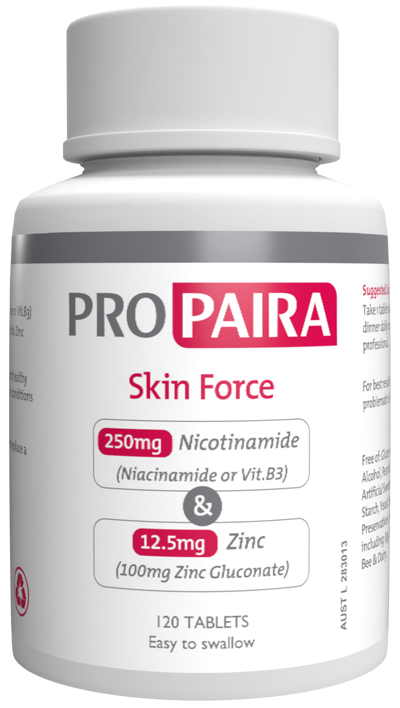 Nicotinamide (Niacinamide or Vit B3) & Zinc Supplement
Skin Force - 120 Tablets
to support Propaira topical products
Propaira Skinforce tablets contain Nicotinamide, which is highlighted in many Australasian Journal of Dermatology Articles as being beneficial for many skin conditions. Particularly Acne.
You should consult with a physician or healthcare professional before starting any diet, exercise or supplementation program, before taking any medication or nutritional supplement, or if you have or suspect you might have a health problem.
Each tablet contains:
250mg Nicotinamide (Niacinamide or Vit.B3)
100mg Zinc Gluconate (Equivalent to Zinc 12.5mg) 5
Suggested Use
2 tablets daily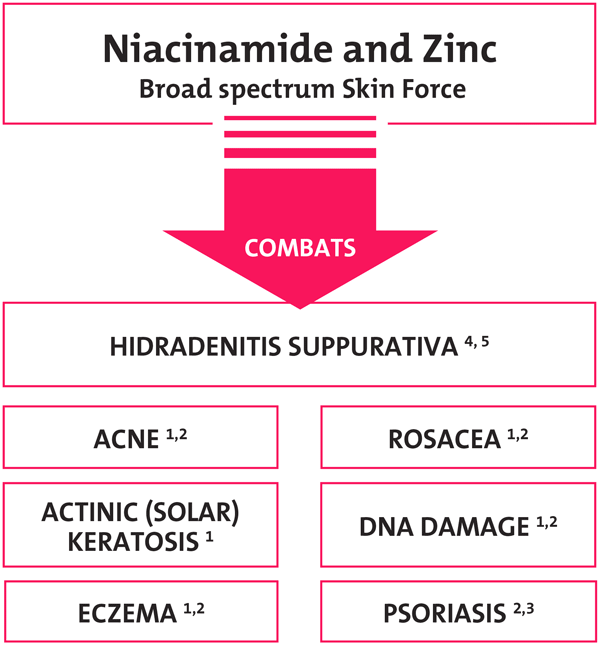 Free of: Gluten, Wheat, Lactose, Alcohol, Peanuts, Sugar, Artificial Sweetener or Flavour, Starch, Yeast, Soy, Corn, Rice, Preservatives, Animal Products including; Egg, Fish, Shellfish, Bee & Dairy.

* Propaira makes no guarantee that results seen by individuals will be seen by everyone. Results can vary from person to person.
We take the greatest care to comply with all Australian Consumer Law to not overstate claims made by individuals using our products.
1. Chen AC, Damian DL, Nicotinamide and the skin. Australasian Journal of Dermatology (2014)55,169-175
2. Cassano, N, Amoruso A, Vena GA 'Zinc Nutritive and Skin: An Overview' , 20 ( ): Journal of Applied Cosmetol 2002; 183 - 193
3. Namazi, M, 'Nicotinamide: a potential addition to the anti-psoriatic weaponry', 17 (11): The FASEB Journal - Federation of American Societies for Experimental Biology 2003; 1377 - 1379
4. Brocard A, Knol AC, Khammari A, Dreno B. 'Hidradenitis Suppurativa and Zinc: A New Therapeutic Approach' Pharmacology and Treatment Dermatology 2007;214:325-327
5. Molinelli E et al;Efficacy of oral zinc and nicotinamide as maintenance therapy for mild/moderate hidradenitis suppurativa: A controlled retrospective clinical study. JAAD 2022