Vitiligo Prone Skin Gel
40ml
Propaira Vitiligo Prone Skin Gel is for the Treatment of Vitiligo and repigmentation of the skin
Vitiligo is a relatively common condition in which the skin is unable to produce pigment.
Vitiligo is due to the loss or destruction of melanocytes, which are the cells that produce melanin. Melanin determines the colour of skin, hair, and eyes. If melanocytes cannot form melanin or if their number decreases, skin colour becomes progressively lighter. * It can be segmental, nonsegmental or mixed. The loss of pigment in skin can be treated.
Propaira Vitiligo Prone Skin Gel Key Ingredients
Forskolin
Cassia Alata leaf extract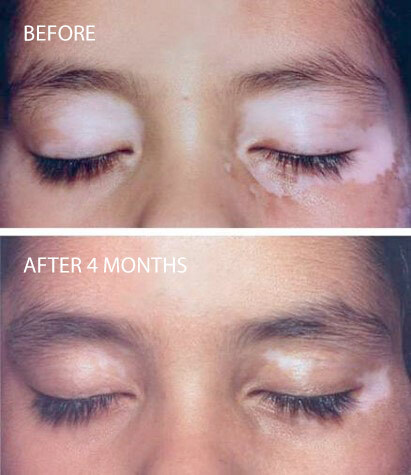 Vitiligo eye area after 4 months treatment **
Vitiligo Treatment Directions for use:
It is recommended to apply Propaira Vitiligo Prone Skin Gel twice a day on the required area by performing a light massage to let it be absorbed.
To achieve optimal results, moderate sun exposure is recommended. It is possible to apply a cream or make-up after complete absorption of the product.
Ingredients:
Aqua (water), Glycerin, Coleus forskohilii root extract, Acrylates/c10-30 alkyl acrylate crosspolymer, Ethoxydiglycol, Cassia alata leaf extract, Phenoxyethanol, Sodium hydroxide, Xantham gum, Citric acid, Potassium sorbate, Sodium benzoate.
* Australasian Collage of Dermatologists www.dermcoll.edu.au
** Study and Vitiligo Clinical Trial results talk to your dermatologist.